Granite/Products
---
Granite
Ascension Granite & Marble LLC has several varieties of granite to choose from. Create the style and color scheme you've always wanted, keeping mind each type has individual variations on each slab.
We carry granite countertops, vanities, sinks, and much more.
---
Products
Edge Profiles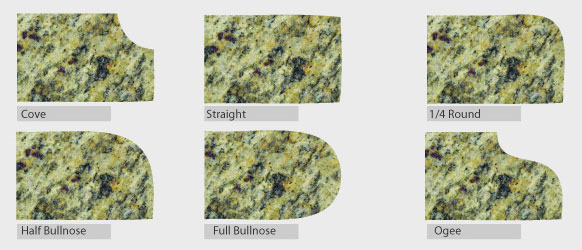 The edges of your granite counter top can be any shape that you want. Above you will find many popular edge styles. Each edge profile is a different price depending on the amount of labor required.
Cove
Straight
1/4 Round
Half Bullnose
Full Bullnose
Ogee
Sinks
GAUGE: The gauge determines the thickness of the steel. The lower the gauge number, the thicker the steel. 18 gauge steel is thicker than a 20 gauge. The thicker the steel, the less susceptible it is to denting. Soci has 3 lines of sinks to choose from. You can select gauge, style, and price. Each offers you a superior product.
STEEL: There are different types of stainless steel. Soci Sinks are created with 304 series stainless steel. It combines chromium and nickel in exactly the right proportions to make out sinks durable and extremely corrosive resistant.
FINISH: For lasting beauty, you should look for a satin polished finish. Soci sinks have a beautiful luster finish that is achieved by both machine and hand finishing operations. This makes your stylish sink easy to maintain year-after-year.
UNDERCOATING: All Soci stainless steel sinks have undercoating and sound deadening pads. This is a very important aspect since it is the undercoating and the sound-deadening pad that eliminates unwanted sounds and ensures adequate water temperature is maintained.